HiMemo – Easy and Convenient Hierarchical Information Memo app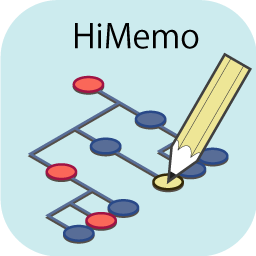 News
Notice(Oct 1, 2023)
Support for "HiMemo" will end.
If you are using iOS15 or later, get "HiMemo2", now!
Introducing HiMemo
HiMemo is a simple and convenient memo app that can record information with a hierarchical structure (parent-child relationship) neatly.
For example, information that has a hierarchical structure, such as information linked to regions or division of organization, that is, information that has multiple children dangling from a parent and overlaps with grandchildren and grandchildren. Is unexpectedly large.
Usually, such information is recorded in a memo application in bullet points, but adding and editing information is surprisingly troublesome, and there was a problem that the hierarchical relationship collapses if careless.
With HiMemo, you can record information hierarchically with simple operations, and you can also add or modify.
It is also possible to export to other apps and SNS in a tree view mode that gives a bird's eye view of the whole, or in plain text format or HTML format.
Privacy Policy
HiMemo (hereinafter referred to as "this application") does not collect or use personal information.
Therefore, we will not provide personal information to third parties.
The information entered in this application is stored in the personal area of iCloud server provided by Apple.
The information stored on the iCloud server is shared among multiple devices owned by the same user with the same Apple ID.
The information stored in the iCloud server is strictly managed by Apple and will not be used by Apple, the developer of this application, or a third party.
Please refrain from entering personal information in this application.
If you enter personal information due to unavoidable circumstances, please manage this application on your own will and responsibility.
When using the function of this application that shares information with other applications or services such as email or SNS, please use it at the user's will and responsibility.
If this information is used to share personal information with other applications or services, Apple and the developers of this application are not responsible.
This security policy is subject to change without notice.
If this security policy is changed, we will announce it on this application and on our website.