HiMemo2 – Easy and Convenient Hierarchical Memo app Enhanced Ver.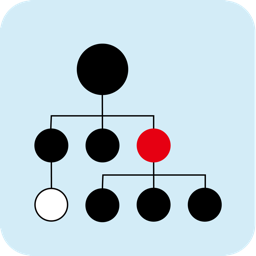 News
Version 2.1.0 has been released. Implemented memo search function and fixed bugs.(Aug 8, 2022)
Version 2.0.0 has been released. Implemented "Trash" function.(June 17, 2022)
Version 1.1.1 has been released. Enhanced the Apple Watch app.(May 15, 2022)
Version 1.1.0 has been released. New functions have been added, and the text conversion function has been enhanced.(May 03, 2022)
Version 1.0.1 has been released. Bug fixes and UI improvements.(Apr 11, 2022)
"HiMemo2" has been released. Available on the App Store.(Apr 05, 2022)
Preparing to release "HiMemo2".(Apr 02, 2022)
Introducing HiMemo2
An enhanced version of HiMemo, an easy and convenient hierarchical memo app, is now available!
For example, there is a surprising amount of information that has a hierarchical structure, such as information linked to regions and organizational charts.
Normally, such information is recorded in bulleted list format in the memo app, but adding or editing information is surprisingly troublesome.
Inadvertently, problems such as breaking the hierarchical relationship will occur.
With HiMemo2, information can be recorded hierarchically with a simple operation like bulleted list format, and it is easy to add or modify.
It is also possible to display a tree that gives a bird's-eye view of the whole, and to export information to other apps and SNS in plain text format or HTML format.
Features of HiMemo2.
You can easily enter and manage data with a hierarchical structure.
Share data between multiple iPhones and iPads (sync with the same Apple ID).
You can browse the data on your Apple Watch.
The following functions have been enhanced and improved from HiMemo
Data is synchronized with HiMemo.
Linked with Apple Watch. You can browse the data on your Apple Watch.
The search function has been enhanced, and you can now search across memos.
The UI is simpler and easier to understand.
Data will be inherited from HiMemo, so if you are using iOS 15 or later, we recommend migrating to HiMemo2.
Privacy Policy
HiMemo2 (hereinafter referred to as "this application") does not collect or use personal information.
Therefore, we will not provide personal information to third parties.
The information entered in this application is stored in the personal area of iCloud server provided by Apple.
The information stored on the iCloud server is shared among multiple devices owned by the same user with the same Apple ID.
The information stored in the iCloud server is strictly managed by Apple and will not be used by Apple, the developer of this application, or a third party.
Please refrain from entering personal information in this application.
If you enter personal information due to unavoidable circumstances, please manage this application on your own will and responsibility.
When using the function of this application that shares information with other applications or services such as email or SNS, please use it at the user's will and responsibility.
If this information is used to share personal information with other applications or services, Apple and the developers of this application are not responsible.
This security policy is subject to change without notice.
If this security policy is changed, we will announce it on this application and on our website.